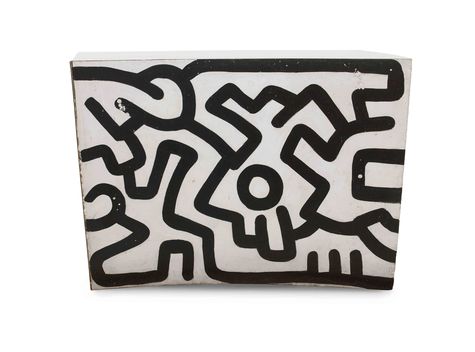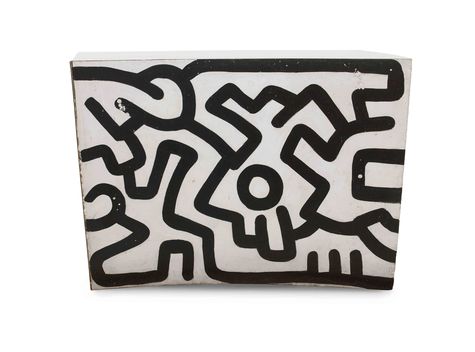 Estimate
TWD 13,000,000-18,000,000
HKD 3,457,000-4,787,000
USD 445,500-616,900
CNY 3,059,000-4,235,000
Sold Price
TWD 13,200,000
HKD 3,586,957
USD 463,158
CNY 3,020,595
---
This lot is to be sold with a certificate of authenticity issued by Keith Haring Studio LLC
+ OVERVIEW
Pop Shop in Manhattan, 1986
— An extension of Keith Haring work
"Art should liberate your soul, trigger your imagination and inspire people to move forward."-Keith Haring

Originated from the street, from the city's artistic creation, while in the 1980s when the street culture was popular, though Keith Haring was not the one initiated the first wave of graffiti, his art has sprung up on the subways and streets of New York then. Born in Pennsylvania in 1958, he likes to paint since he was a child, his father was his enlightenment teacher in cartoon drawing skills. Trained in a formal college, he participated in many international exhibitions after his first solo exhibition in New York in 1981, from New York to the Kassel Documenta in Germany, and the Sao Paulo Biennale in Brazil. He also has joined a number of public art in relation to graffiti, poster design and performing art.

"Graffiti is the best thing I have ever seen."-Keith Haring

In 1982, Keith Haring was arrested by the New York police for graffiti in a subway station, the process was reported by Columbia Television and then brought him became fame. The city became his canvas, his street art creations often contain many classic elements, symbols are repetitive such as angels, dogs, flying objects and people with piercing all over the body are presented in thick silhouettes and monochrome outlines. They seem to be childlike and humorous, but the context is hinting with provocations and hidden anger. Across the agenda of birth, death, love, gender and war, he created a symbolic spirit that is universally spread. His tender care for the society and human nature is reflected in his creations, for instance anti-war, anti-nuclear, anti-drug and AIDS equal rights movements.

Though Keith Haring's creative career only lasted for a short period of ten years, but is undoubtedly explosive, his art has never been far away from the mass public. He once said, "Here's the philosophy behind the Pop Shop: I wanted to continue this same sort of communication as with the subway drawings. I wanted to attract the same wide range of people, and I wanted it to be a place where, yes, not only collectors could come, but also kids from the Bronx. The main point was that we didn't want to produce things that would cheapen the art. In other words, this was still an art statement." He has been seen to participate in many social movements, even his works then were already exhibited in museums. The prevalence of American pop culture in the 1980s, repressive but simultaneously fanatical, conservative yet radical social atmosphere in the post Cold War, the rebellious relationship between art and popular culture, all these contradictions are clearly visible in his artistic philosophy. Confronting with these issues, he proudly stands on the front line with a distinctive personal style to express his viewpoint through art.

In 1986, a trendy shop called "Pop Shop" was launched in Soho, New York, selling T-shirts, posters and his own works. The idea behind this initiative was "I want to continue to have the same communication as graffiti in the subway, I want to attract as many people as in the subway, not only collectors can come, but also children in the Bronx. And the crucial point is that we do not want to produce products that will lower the art price, in other words, this is a state of art." This kind of business venture allows more people to have access to his art. Keith Haring reckons that the purpose of creating art is to communicate and hence contribute to the culture, and the art he believes in is gratuitously created for the mass public. And this work "Untitled (Pop Shop Counter)" was hand painted by him in the counter of his pop shop.
Keith Haring employed graffiti imagery to convey a variety of messages and went deep into the society, was clearly loved by everybody, nevertheless it is an universal symbolic language. Between 1982 and 1989, he has created at least 50 public artworks in more than 10 cities around the world, and most of them are for charity. His art has long surpassed the limitations of his short yet fascinating life, leaving the world with his enthusiasm and care for the society.

Modern & Contemporary Art
Ravenel Autumn Auction 2020 Taipei
Sunday, December 6, 2020, 12:00am