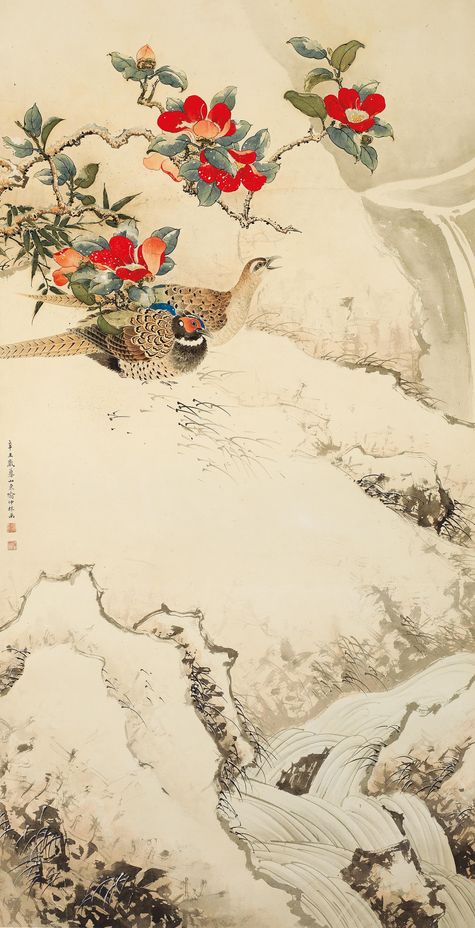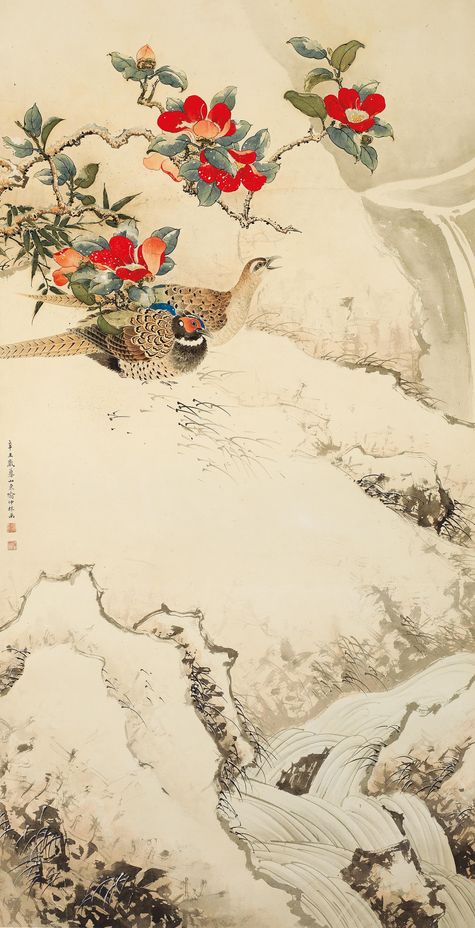 Estimate
TWD 380,000-600,000
HKD 104,000-163,000
USD 13,300-21,000
CNY 88,000-139,000
Sold Price
TWD 1,200,000
HKD 333,333
USD 42,857
CNY 277,136
---
Signature
Signed Yu Chung-lin in Chinese
With two seals of the artist

PROVENANCE:
Acquired directly from the artist's family

EXHIBITED:
"Elegance and Grace: A Memorial Exhibition of Flower and Bird Paintings by Yu Chung-Lin", National Museum of History, Taipei, 14 January, 2012 - 28 February, 2012

ILLUSTRATED:
Elegance and Grace: A Commemorative Collection of Flower and Bird Paintings by Yu Chung-Lin, National Museum of History, Taipei, 2012, pp. 126-127
+ OVERVIEW
Flower-and-bird genre reached its peak in the Tang and Song dynasty and has become the favourite of the nobles. Gu Jun-zhi, Ding Guang-shan and Tao Jing-zhen were pioneers of the genre. Xie He of the Southern Qi period wrote that Gu Jun-zhi's works are delicate, colourful and possess a character. Hence the aesthetic standard is stipulated.

Well-acclaimed Flower-and-Bird artist Yu Chung-lin studied Song and Yuan paintings and created his unique interpretations. Paintings of smaller scale possess an elegant tone, while the bigger ones have rich compositions. Tai Jing-nong once mentioned that Yu's artwork was formed from an academic style, which later developed into his own unique interpretations. When compared to previous masterpieces of the same genre, this painting shows certain resemblance to a Song painting of bamboo and birds. Using the same snowy background with gentle snowfall, a pair of pheasants huddle in the snow. Different from the Song painting, Yu put the pheasants on the top of the painting, enhancing their importance while breaking through from the traditions. A female pheasant's call breaks the winter stillness. Their feathers were meticulously painted using the technique of the Song school. As the male bird gazes steadily into the distance, displaying courage and bravery. From this painting, Yu Chung-lin made use of colour combination, unique structure and meticulous strokes to demonstrate a contemporary interpretation of a traditional genre.

Red camellias glow on the top creating surprises to the dull winter scene. Yu once mentioned the importance of colour matching. A cluster of glamourous flowers will lose the balance, and would be difficult to manage. While a careful planning of which, would highlight the subject and provide a contemporary tone. As the red camellias blossom in the dull white winter snow, the balance is achieved. Such visual balance is also slowed down by the running stream on the right, which carries a connotation of blessings, making this a magnificent artwork.

Refined Brushwork: Fine Chinese Paintings and Works of Art
Ravenel Spring Auction 2021 Taipei
Saturday, July 17, 2021, 12:00am