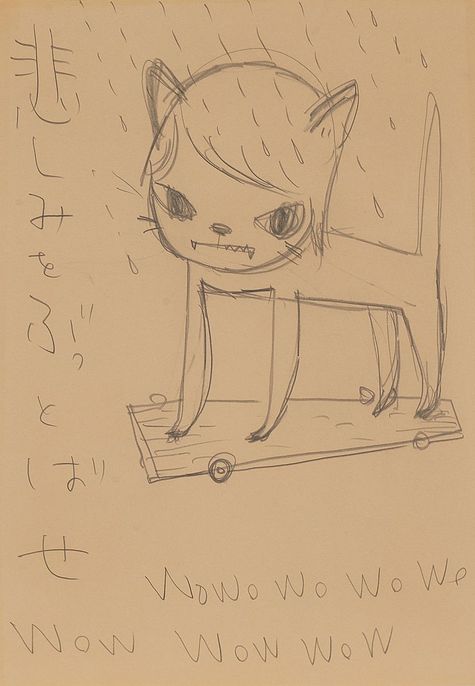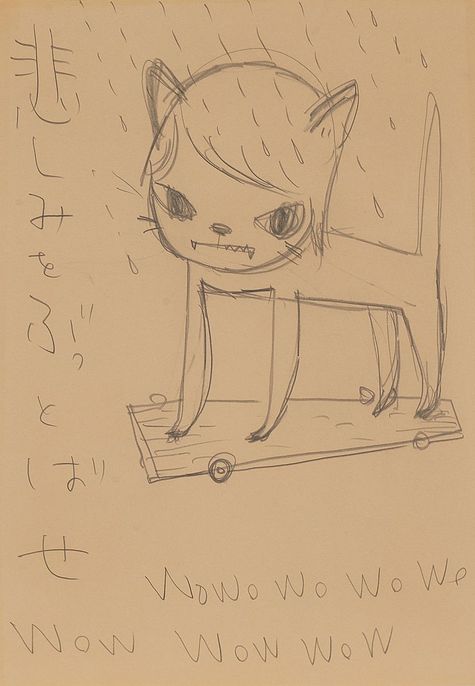 Estimate
TWD 1,900,000-2,800,000
HKD 518,000-763,000
USD 66,600-98,100
CNY 439,000-647,000
Sold Price
TWD 2,280,000
HKD 633,333
USD 81,429
CNY 526,559
---
Signature
Inscribed left You've Got To Hide Your Love Away in Japanese

PROVENANCE:
Pace Gallery, New York
Private Collection, Asia

EXHIBITED:
Yoshitomo Nara: A Bit Like You and Me…, Yokohama Museum of Art, Yokohama, Japan, July 14- September 23, 2012; Aomori Museum of Art, Aomori, Japan, October 6, 2012 - January 14, 2013; Contemporary Art Museum Kumamoto, Kumamoto, Japan, January 26 - April 14, 2013

ILLUSTRATED:
Yoshitomo Nara: A Bit Like You and Me…, Foil Publishing Co., Ltd, Tokyo, 2012, p.98
+ OVERVIEW
Yoshitomo Nara's Japanese title is translated from "You've Got to Hide You Love Away", a song by the English rock band the Beatles, released on the album "Help!" in 1965. The artist, This lot was selected in the artist's touring exhibition "A Bit Like You and Me..." shown respectively at Yokohama Art Museum, Aomori Museum of Art, Contemporary Art Museum Kumamoto, between 2012 and 2013. Whether the title of the exhibition, or the title of the work, obviously the artist was deeply inspired and influenced by The Beatles' rock music.

Yoshitomo Nara was born in Hirosaki City of Aomori Prefecture in Japan on December 5, 1959. Known for its apples and cherry blossoms, Aomori has boundless and alluring natural scenery, though it can be desolate and quiet in the winter time. Currently, Nara is in his 60's and his hair has turned salt-andpepper, he still dresses in simple T-shirts or hooded sweatshirts with jeans. His painting style also seemed to change as he aged. It is most apparent in the eyes of the characters, where the looks of rebellion and anger have been replaced by more complex emotions, tranquility, and peacefulness that likely match the transformation of his mindset.

Nara has a natural talent in painting. When he was young, an art student from his hometown once praised him as being good at painting. His elementary school teacher also said that he painted like an adult. However, he only decided to study art during his last year in high school while preparing college entrance exams, and attended tutoring school in Tokyo as a result. Nara ended up attending Musashino Art University, but he was never interested in dry academic theories. Instead, he followed his passion in punk music, and spent time in concerts and record stores.

After a one-year absence from school, he became a wanderer in India, Pakistan and Europe. Upon his return to Japan, he was admitted to the Aichi Prefectural University of Fine Arts and Music, where he finished his graduate studies. After serving as an art teacher, he went to Germany to study at the Arts Academy of the city of Düsseldorf, and set up his studio in Berlin. His growing fame led him to UCLA in the U.S. to serve as a visiting professor and more. He returned to Japan after 12 years of living abroad, and his experience during this period prompted him to pursue a career as an artist for life.

Loyal to his own decision, he never wavered much. Writer Banana Yoshimoto once said: "In this day and age, it is difficult to stay true and sincere. But Nara is sincere, of this I have no doubt." She described Nara's paintings depict "an unusually cold world due to loneliness and a deep sense of pain, but never with malice at heart. And I would rather live in such a world."

NO MUSIC, NO LIFE! Yoshitomo Nara's rebellious thoughts against the academic authorities during his college years, his memory of childhood experience, and what he heard and saw during his journeys abroad often lingered in the depth of his heart. His artistic inspiration came first from the cover design of his beloved music records. The design format of text and images was a prominent influence in his early drawings.

In 2020, the curator of LACMA's Yoshitomo Nara retrospective exhibition, Mika Yoshitake, pointed out the artist's longtime passion in music, which became the theme that ran through the entire exhibition. She said "Ever since Yoshitomo Nara heard folk songs at the age of nine, the covers of all types of albums became one of the means by which he came into contact with and became engrossed in art."

The first room of the exhibition displayed more than 300 album covers that Nara has collected since his youth, resulting in a spectacular wall of music. Most of the albums were produced in the late 1960's to the mid 1970's. When he was nine years old, he listened to radio programs on the US military Far East Network radio station, and discovered western folk music as well as rock and roll. Being all by himself at home when he was a child, his boundless imagination was initiated while listening to radio music. No Music, No Life!

Indeed, music has always accompanied Nara in life. Yoshitomo Nara stated that: "Whenever I am painting, music enters my ears and directly pours out from my hands." He would listen to music while he worked, and many of his artworks or exhibition titles came from western music song titles or lyrics. Even now, his studio continues to accumulate more rock, blues, soul and punk albums. He can even serve as a historical witness of the evolution of contemporary western music. Different types of music have accompanied Nara through different ages of growth, including: From 1960-1970's, Bob Dylan, The Beatles; in the 1980's, David Bowie, Iggy Pop, punk rock bands such as the Clash, Sex Pistoles, and Ramones, reggae musician Bob Marley, Kraftwerk's electronic music, and Nirvana's rock music; in the 1990's, British rock band Blur and Radiohead, and hip hop music from the Beastie Boys.

Yoshitomo Nara has provided the world with comprehensive artistic presentations by devoting himself to creative works, whether it was oil paintings, works on paper, painting on billboards, ceramics, sculptures, installations, photography or prints. His solid creative context is displayed today in the museums, or art galleries or auctions in the forms of artworks we are able to see. Publishing Yoshitomo Nara: The Complete Works when he was just 52 years old, Nara's diligence and his bountiful creativity moved Takashi Murakami greatly. His art has been collected by major museums including the Museum of Modern Art in New York, LACMA in Los Angeles, and numerous museums in Japan.
Select: Modern & Contemporary Art
Ravenel Spring Auction 2021 Taipei
Saturday, July 17, 2021, 12:00am