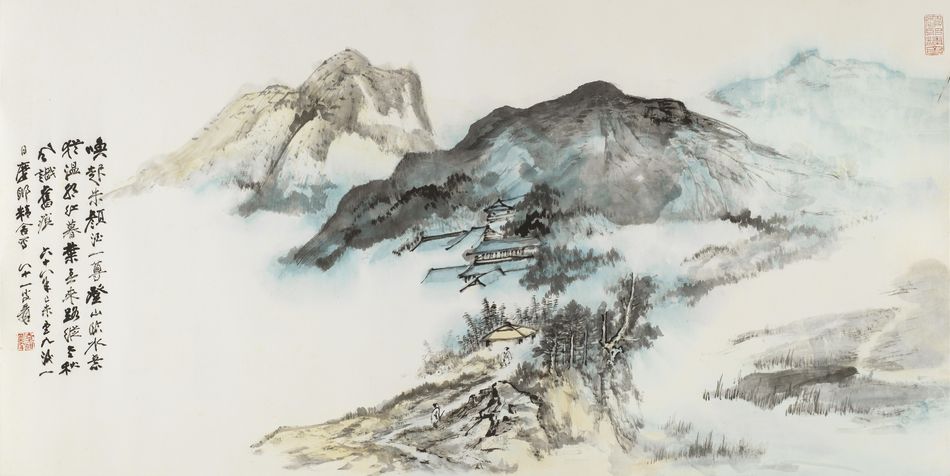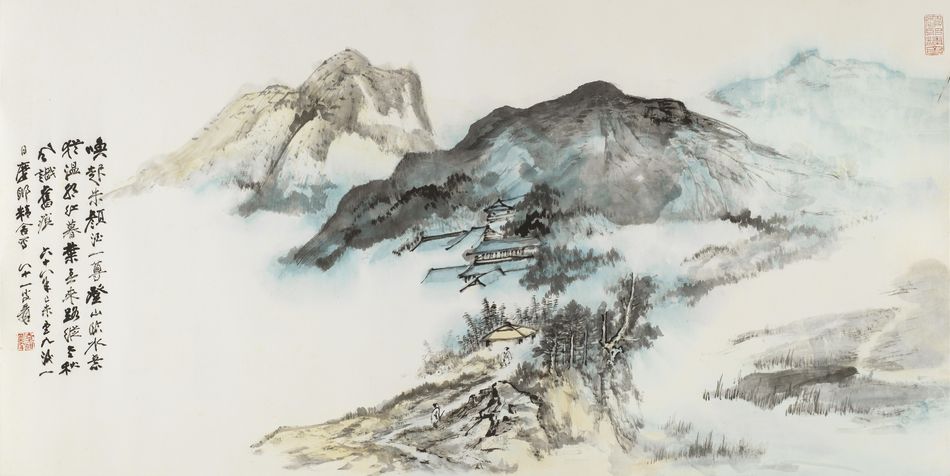 Estimate
TWD 8,000,000-16,000,000
HKD 2,174,000-4,348,000
USD 278,300-556,500
CNY 1,782,000-3,563,000
Sold Price
TWD 10,200,000
HKD 2,727,273
USD 347,175
CNY 2,318,182
---
Signature
Signed Yuan in Chinese
With two seals of the artist

PROVENANCE
Former collection of Mr Lin Hwai-min's
family
+ OVERVIEW
After a majority of time spent abroad, Zhang Da-qian left the US for Taiwan in 1976 and settled at Moye Jingshe in Shuangxi from August 1978 until his death in 1983. During his stay in Taiwan, Zhang reached the peak of his career with the most majestic works. Regardless of his endless relocations in his lifetime, he settled and enjoyed his old age in Taiwan. Hence the landscape paintings of this period carry a nostalgic tone. Despite his eye injury, Zhang was able to paint in the style of Song and Yuan with the meticulous details of Ming and Qing. He painted by incorporating classical techniques into his own creation: splashed ink with a fine brush. The composition is constructed with intricate details and variations. As Baishi Laoren mentioned, each stroke was meticulously composed with a poetic finish. A majestic landscape could be depicted with only simplistic and abstract strokes. With years of observing landscapes through his travels, the artist could depict landscape paintings at ease in classical styles at the peak of his career, as shown in this majestic work, completed in 1979.

This work was structured in the style of Huang Zijiu and Wang Shuming. The application of ink could be traced back to the style of Xu Wei and Chen Chun. Zhang Da-qian incorporated the elegance of Song and Yuan paintings and the majestic details of Ming and Qing literati landscapes. Structured in a zigzag composition, depth of the painting was represented with layers of hills extending to the cliff and shores on the right. Space on the left was it was deliberately created to enhance the misty atmosphere. The structure appears spacious yet this was deliberately planned to showcase the elusiveness of the environment. Distant hills were finished with short strokes and dried cun for their outlines to highlight depth of the landscape. Light green, ochre and ink were used to depict light and shadow. A mixture of tones and gradation represent its density. Dots and cun with dried strokes create a dense lustrous forest. Carefree strokes were used to create a misty landscape. The middle ground was composed

with clusters of rocks. Splashed ink were used to further add moisture to the environment. Fine outlines depicted cottages in a distance, juxtaposing intricate details against the majestic landscape. Light ochre was used to highlight light shone on the hills, creating a harmonious tone in the misty setting.

A gentle knoll was depicted in the foreground with light ink and broad cun to represent a trail. Zhuan strokes and slanted brush to depict the rough rugged nature of rocks and cliffs. A kiosk was depicted in simplistic strokes. Trees were outlined with bare trunks in the style of Qingteng Baiyang; while those farther in a distance were depicted in Wang Meng's style. A village was meticulously painted with a few scholars hiking, one with a hiking stick, another looking afar. Ox hair cun were used with light ink connecting the shore and the water. This echoes with the light hue on the left creating a misty and elusive setting. Such technique took reference to Jinling landscape juxtaposing cun strokes with the elusiveness of mist. Such variation of tone highlights the tranquility and grandiosity of the landscape, bringing the audience face to face with nature. Such splash art was the result of years of practice at Zhang Da-qian's later part of his career. Through the contrast of refined and carefree depiction, the painting combined spontaneity with controlled brush to depict the grandiosity of Song landscape. Such is the essence of literati landscape painting.

This work was in the collection of Lin Hwai-min's family. It was completed in 1979, at Zhang's age of 81, after a hike during Chongyang festival. As a loyal scholar who honored filial piety, Zhang created this painting with a nostalgic juxtaposition of the consistency of landscape against the vicissitude in life. Despite the eye injury, Zhang developed splashed ink technique. His talents in splashed ink, along with the techniques of Dunhuang art, were widely acclaimed. Yet his talents did not ease in its existence, but were further enhanced through his nostalgic emotions with age and experience. Such extraordinary works are rarely seen in the current art market. Landscape in Light Ink and Majestic Lushan were a few examples of such work recorded in The World of Chang Dai-Chien by Shen C.Y. Fu. As these paintings are compared to this work one could observe the meticulous composition to produce such majestic landscape with a combination of intricate details and abstract styles. Such elusiveness of landscape makes this work a scholar painting with immense depth echoing with old masters and a sophisticated play of realism and abstraction. This proves the world's acclamation of Zhang as being one of a kind in centuries.
Refined Brushwork: Ink Paintings and Works of Art
Ravenel Spring Auction 2022 Taipei
Saturday, June 4, 2022, 1:00pm