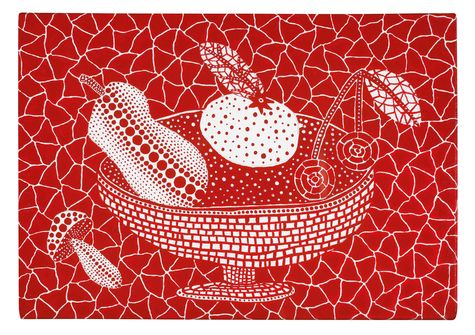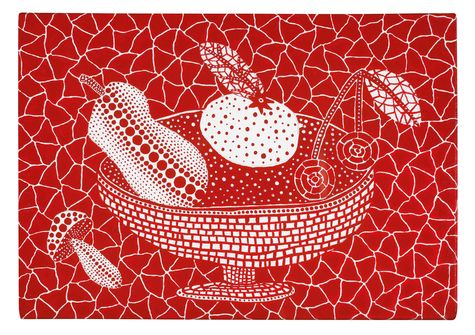 Estimate
TWD 8,000,000-10,000,000
HKD 2,128,000-2,660,000
USD 274,200-342,700
CNY 1,882,000-2,353,000
Sold Price
TWD 8,400,000
HKD 2,282,609
USD 294,737
CNY 1,922,197
---
Signature
Signed on the reverse Kusama in Englis, titled Fruit in Japanese and dated 1992
This lot is to be sold with a registration card issued by Yayoi Kusama Studio.

+ OVERVIEW
She created a type of form. With a white overlap like mycelium that is consistent throughout and keeps proliferating, consciousness is enclosed. That is art with a level of self-discipline, which uses unobstructed matter to present a transcendent reality. With an astounding method, this wonderful and beautiful image is vividly imprinted into our sensory organs. — Herbert Read, Mugen no Ami: Yayoi Kusama Jiden

Polka dots are signals from the universe. A boundless net represents her life. The British daily The Times listed Yayoi Kusama among the Top 200 Artists of the 20th Century to Now. As one of the most influential avant-garde artists worldwide, Kusama is like her naked and burning artistic life, gorgeous and dazzling. Each day, she creates at an amazing speed. Utilizing means such as painting, sculpture, and performance art, and using surreal psychological studies, she presents the endless creativity in her head.

The flamboyant, playful colors of the piece juxtapose sharply with the jarring effect of the fractured lines which recall the Infinity Nets of Kusama's early series. Creating a mosaic effect, the two dimensional shapes of each individual fruit take shape in cracked, contrasting simplicity. Complementing the two-dimensional flatness of the nets, Kusama adds dimension and variance by echoing the roundness of some fruits with her iconic polka dots. Fruits take on new dimensions as their orbicular forms are emphasized by the strategically varied dots. The roundness of the fruit bowl is similarly emphasized through a net of polka dots which combine to envelope the scattered fruits, drawing each of the seemingly antithetical compositional elements together in a harmonious confluence of divergent components.


Modern & Contemporary Art
Ravenel Autumn Auction 2020 Taipei
Sunday, December 6, 2020, 12:00am