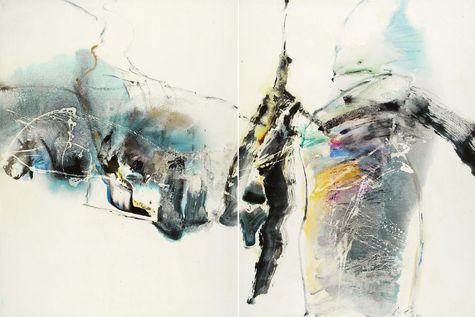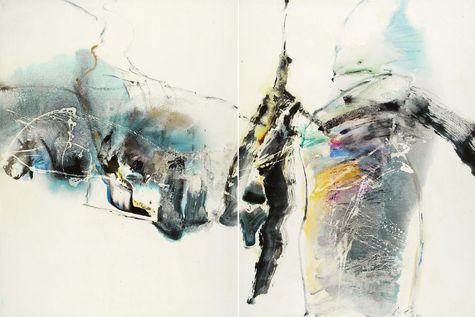 Estimate
TWD 1,500,000-2,200,000
HKD 409,000-599,000
USD 52,600-77,100
CNY 346,000-508,000
Sold Price
TWD 1,020,000
HKD 283,333
USD 36,429
CNY 235,566
---
Signature
Signed lower right Chuang Che in Chinese and dated 88
Inscribed reverse 88-59 (diptych)

PROVENANCE:
The Artist's Studio
David Findlay JR Gallery, New York
Private collection, Asia
This lot is accompanied with a certificate of authenticity signed by Janay Wong from David Findlay JR Gallery, New York.
+ OVERVIEW
"In 1966, Chuang Che received a grant from the John D. Rockefeller III Foundation to study contemporary art in the United States, and moved to the United States after the 1970s. Influenced by the prevailing Abstract Expressionism (representatives: Jackson Pollock, Willem de Kooning, etc.), Chuang Che began to use diluted oil paint, acrylic and ink to create, express his pursuit of the essence of Chinese landscape painting through the free movement of brushes. Therefore, compared with the abstract works of the 1960s, the works of this period have already shown the establishment of Chuang Che's basic painting style. In this lot, ""Untitled A7272 (Diptych)"" in 1988, we can see after deconstruction of form, the natural and dynamic vitality of landscape.
Findlay Galleries in New York has represented Chuang Che's artworks since 2006, and held a solo exhibition of ""Chuang Che│The Chinese Abstractionist"" in March this year; in 2019, Chuang Che's solo exhibition ""Suspending the Ephemeral"" was exhibited at Vazieux Gallery in Paris. Taipei Museum of Fine Arts held Chuang Che's retrospective exhibition in 2015-2016 to comprehensively study his art and thought; Chuang Che's artwork has become the permanent collection of Centre Pompidou, Paris in 2020.
"


Select: Modern & Contemporary Art
Ravenel Spring Auction 2021 Taipei
Saturday, July 17, 2021, 12:00am