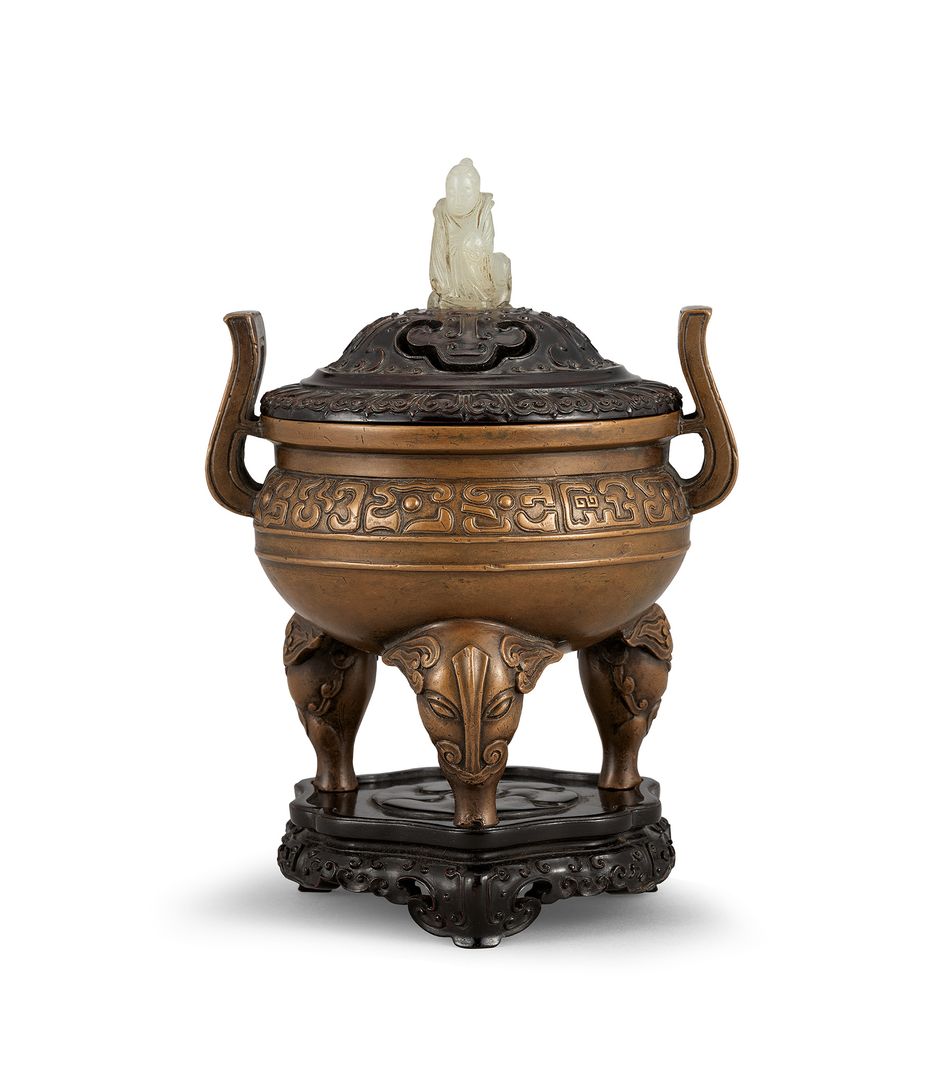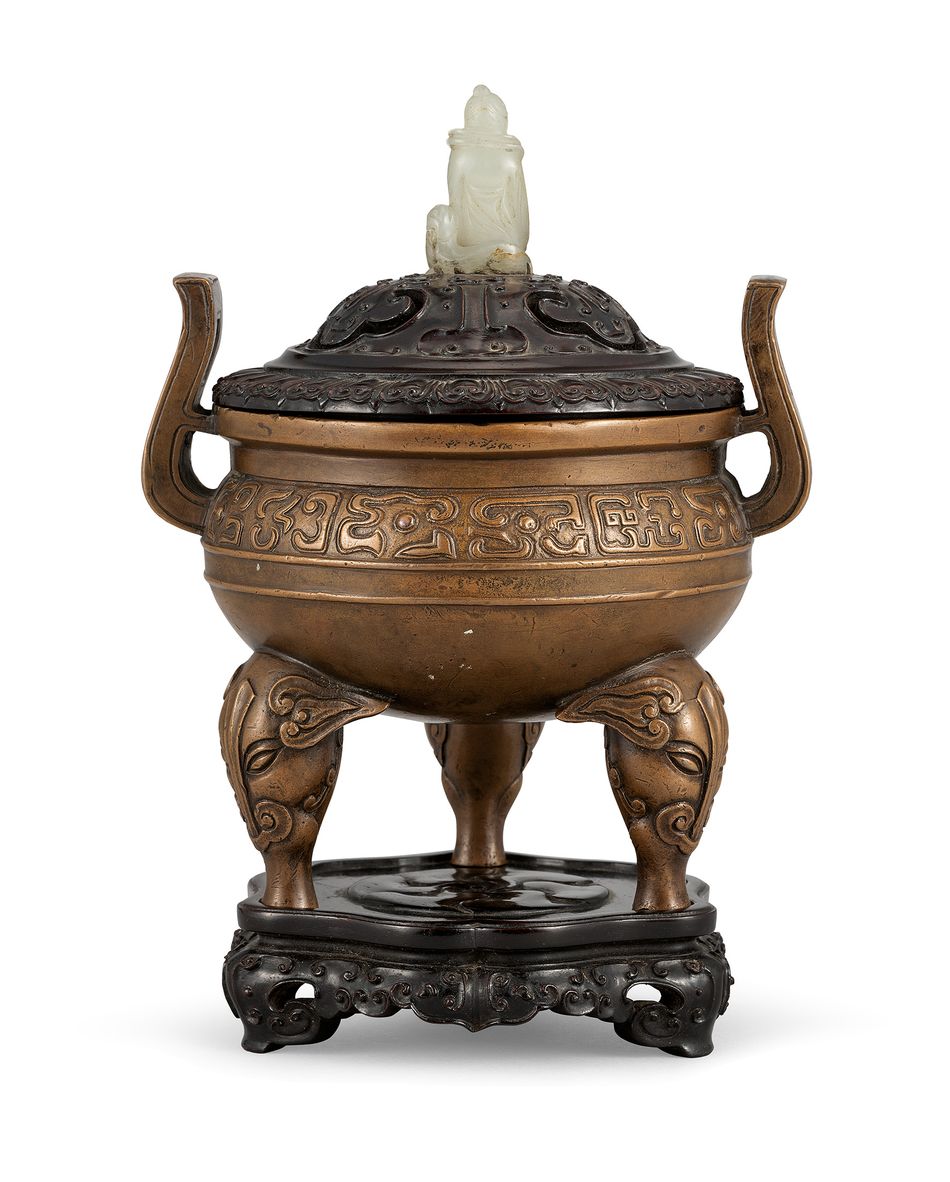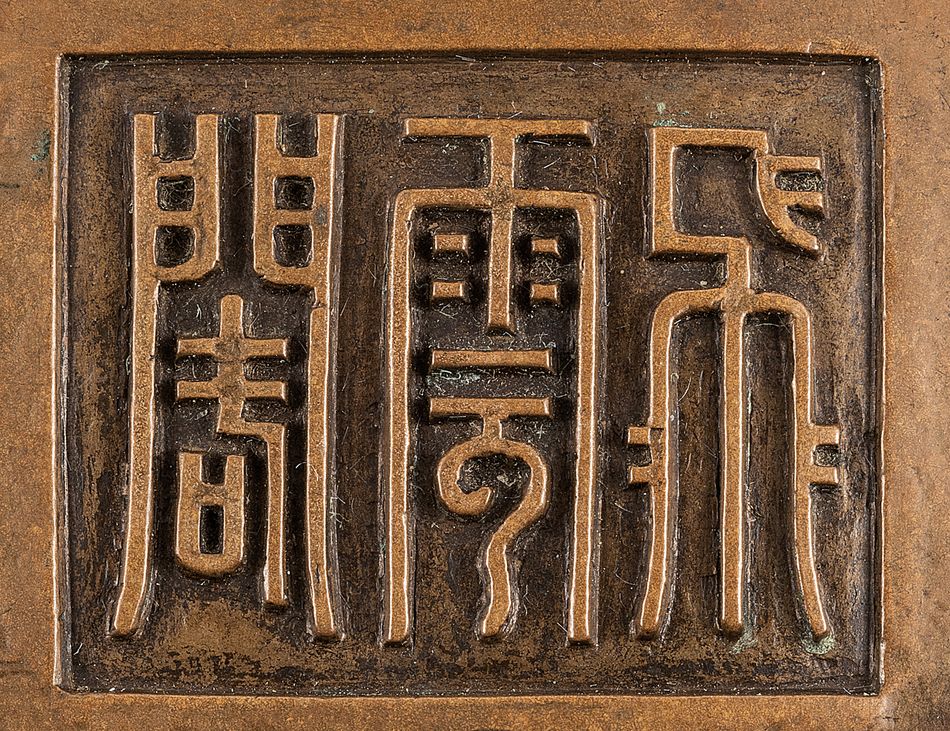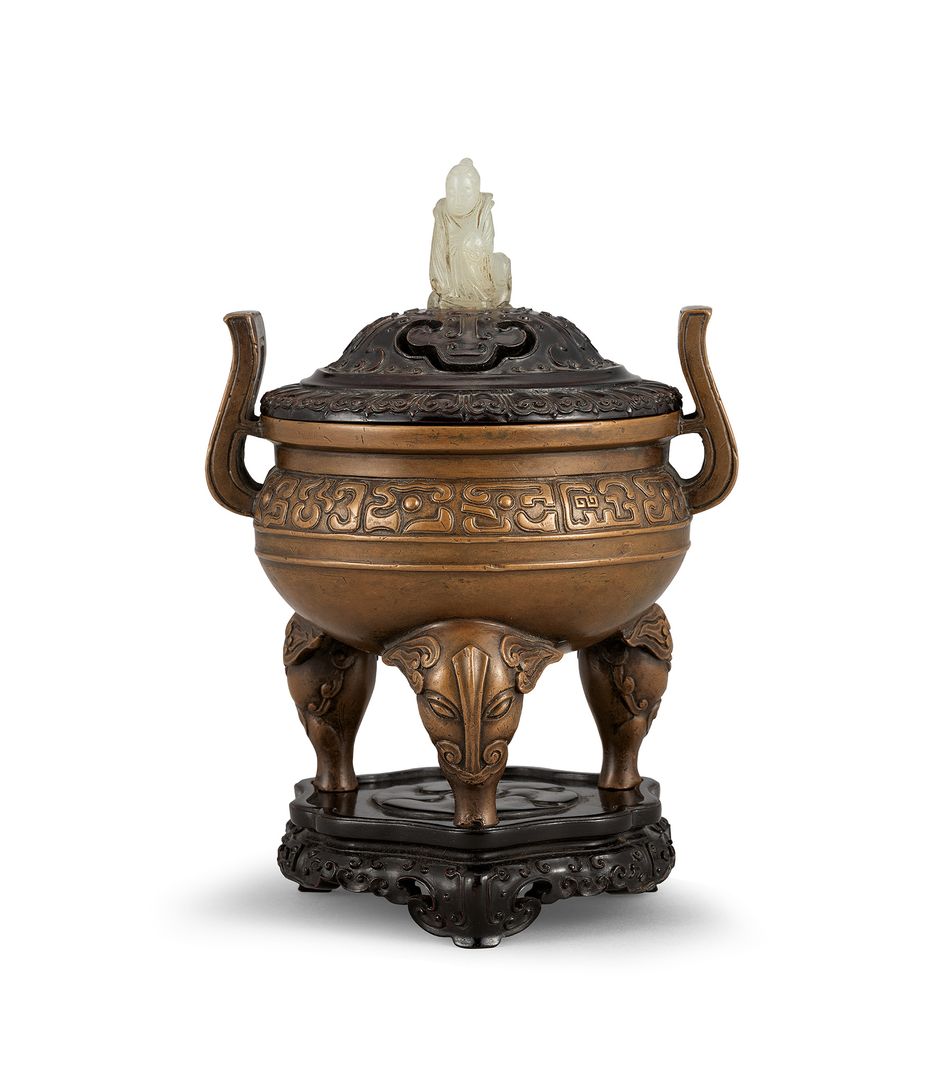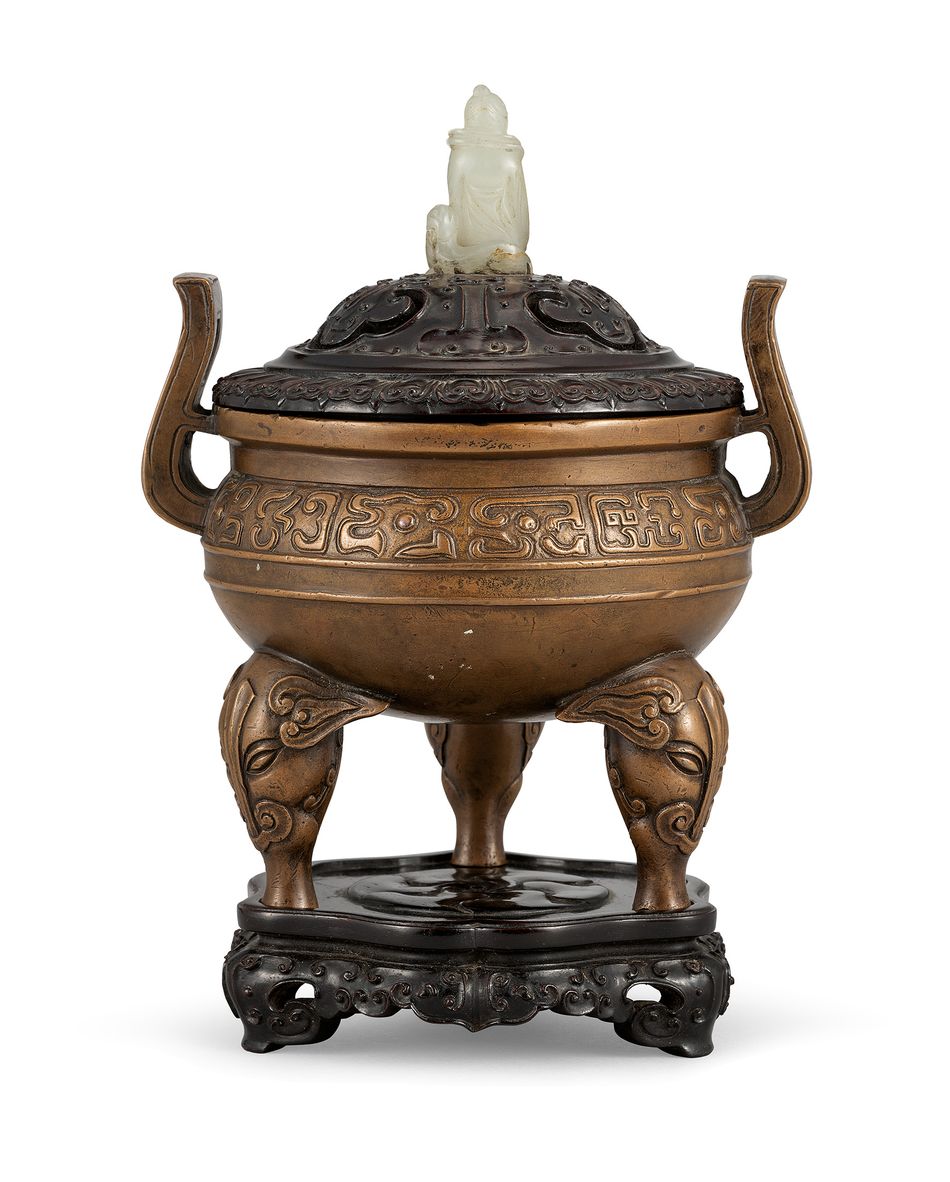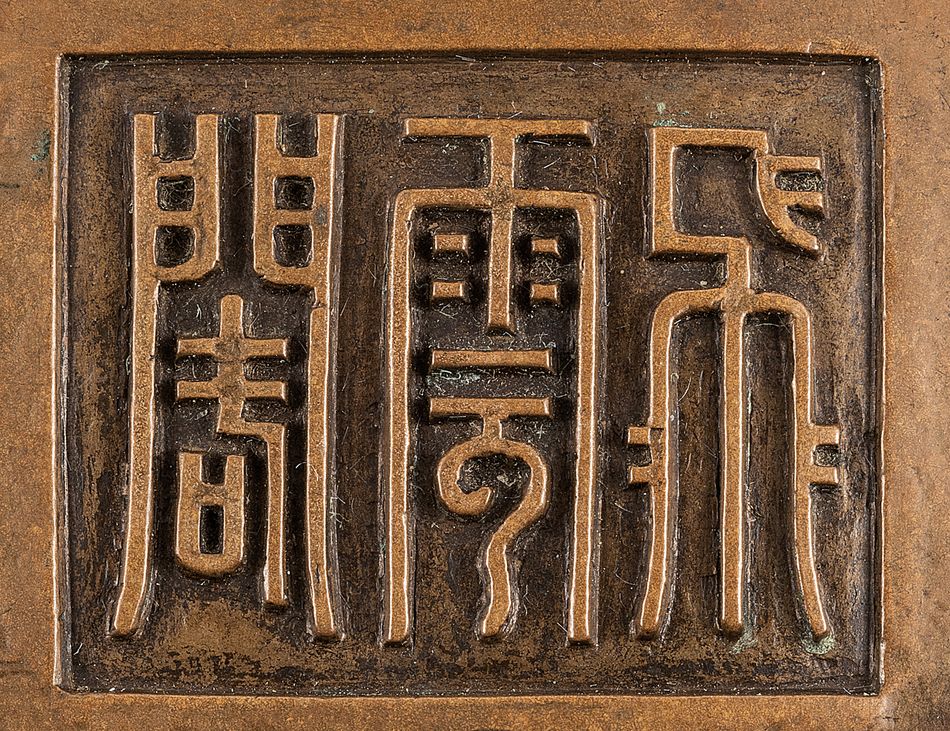 Estimate
TWD 1,400,000-2,000,000
HKD 347,000-496,000
USD 44,300-63,300
CNY 314,000-448,000
---
Signature
+ OVERVIEW
The sophisticated culture of incense developed through centuries. Each form symbolizes a different purpose, namely those for rituals, laundry drying, scholar appreciation, qin, meditation, medical purposes, etc. They vary in sizes, materials, colours, forms and styles.



This bronze censer is tiny in form in a scholar's room, with protrude edge, neck, round body, erected handles and three elephant-trunk form legs. The style is classical and elegant with delicate carvings. The material is refined with a fine patina and heavy in weight. A hongmu stand and cover was custom made for the censer. The cover was reticulated incised with relief of clouds and lotus pattern, attached with a white jade figure filial. Pattern crossing the body of the censer is depicted with a taotie pattern. The Feiyun Pavilion mark was imprinted at the bottom in seal script. The overall form is elegant with exquisite quality in material, craftsmanship, worthy of a scholar's possession in his study room.



During the Qianlong period of the Qing dynasty, bronzes were collected and documented in books such as Xiqing Sijian. From the pattern of the body, cover, filial and intricate combinations, this censer matches the standard of Qing aesthetic styles. Archaistic bronzes were common in the Qing dynasty, as suggested by King Xi of Zhou Tripod, Xiqing Gujian vol. 2. Such styles of bronzes were recorded in Qing documentations. Tripod censers supported by elephant trunks were common in large imperial cloisonne enamel censers. This is a small intricate sized bronze in imperial style.



Private marks of bronze censers vary in myriad forms in the Ming and Qing period, including Feiyun Pavilion. Others include Youqin Shulu, Yutang Qingwan, Qinshilu, Songyuelu, Jingwuzhai, to name but a few.



Patina is an important quality in bronze censers, regardless of their sizes. Censers as scholar objects were custom made by scholars and officials with private marks as personalized objects. Among the various styles of Xuande bronze censers, this type of personalized bronze censer would be made with exceptional quality, fine craftsmanship, excellent patina and a finely inscribed mark. These details reflect the taste of their owners and the aesthetic qualities of bronze censers, reflecting the refined taste, elegance and the pursuit of excellence. Such an exquisite work with significant collection value rarely appears on the market, with this item with Feiyun Pavilion mark being one of them.



Similar objects: Gold-and-jewelry mounted Tripod Censer, Qing Dynasty, collection of The Palace Museum Beijing; Jade tripod incense burner, Qing Dynasty, collection of Taiwan National Palace Museum.


Refined Brushwork: Ink Paintings and Works of Art
Ravenel Autumn Auction 2022 Taipei
Saturday, December 3, 2022, 1:00pm