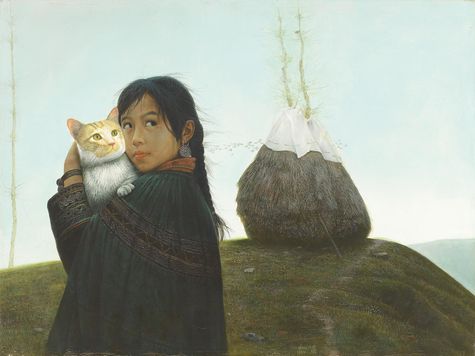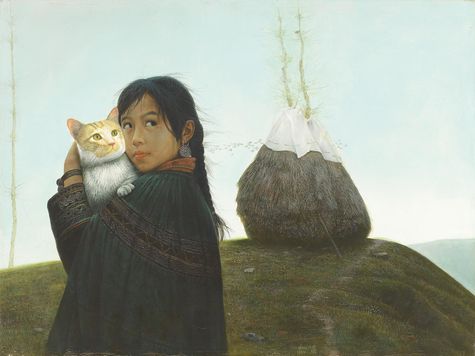 Estimate
TWD 9,000,000-16,000,000
HKD 2,314,000-4,113,000
USD 298,700-531,000
CNY 2,123,000-3,774,000
---
Signature
Signed lower center luo zhong li in English, Lou in Chinese and dated 1989

PROVENANCE:
Acquired directly from the artist by the persent owner
+ OVERVIEW

Celebrating the Realistic Spirit of Rural Paintings

After returning from studying in Belgium in 1986, Luo Zhongli returned to Daba Mountain, where he had lived for more than ten years, and profoundly depicted the eternal tranquility of the countryside. In recalling his original intention, he once said that honest peasant always suffer, and he wants to shout out for these very much neglected farmer. It is such an impressive personal experience and a strong sense of mission that gives his works rich emotions. "In the Chinese painting world today, no one can be as faithful to the breathtaking depiction of rural subjects as Luo Zhongli and have successfully resonated. ... ... trying to excavate the essence of beauty in the expression style of "austere" and "humble", simultaneously appeal to the world to pay attention to these unadorned characters and lovely respect the guileless, simple and kind beneath life." once described by Zhang Yuteng, Director of the National Museum of History, and "Girl and Cat" is exactly created in such a background of the era.

"Themes in ruralism worth to use a lifetime to create" — Luo Zhongli

The prolific of Simplicity and Silent

Luo Zhongli was hailed as "the flag of Chinese painting in the twentieth century". From 1984 to 1986, he was one of the earliest public scholars in China and studied at the Royal Academy of Fine Arts in Antwerp, Belgium. This Spring auction presents his realism work "Girl and Cat", the current collector was once a Belgian diplomat. The two met while Luo Zhongli studied in Belgium. Even after returning to China, they still kept close contact and the current owner still regarded Luo Zhongli's works as his precious collection.

Animals often appear in Luo Zhongli's paintings. He always bestow them with human emotions when painting them, they clearly feel the tender care of their masters while playing and spending time together, both the animals and their masters are in the same emotional world. "Girl and Cat" captured such a quiet and gentle moment, the girl and cat were delicately presented under the interweaving of light and shadow, and from the painting can see the eyes of cat were blooming with mild anticipation. Wheat straw, young girl and white cat constitute an intoxicating rural atmosphere. Luo Zhongli points out the aesthetic concept with Chinese cultural consciousness in the rural themes, continuing the style of his early vernacular realistic paintings, which includes the use of sturdy form, exquisite structure, warm and harmonious color. With his down-to-earth eyes and heart, he truly recorded the lives of the ordinary Bashu farmers, and explored poetic quality in the most common and normal life scenes.

And his works often have similar narrative themes and even composition, which are the creative ways that Luo Zhongli used to. "Girl and Cat" and Ravenel Hong Kong Spring Auction 2012, Lot No. 38 "Autumn: Girl Holding a Cat" have a coherent narrative approach. The selling price reached TWD 12,923,077, equivalent to HKD 3,360,000.,which is nearly twice as much as that of the low estimate. "Girl and Cat" is such a rare work at this attractive estimate, and the theme is also a rare masterpiece in this spring auction. Luo Zhongli focused on the native feelings between mankind and nature, and used his paintings to convey the simplicity and beauty of natural life to the world.

Modern & Contemporary Asian Art
Ravenel Spring Auction 2020 Taipei
Sunday, July 19, 2020, 12:00am