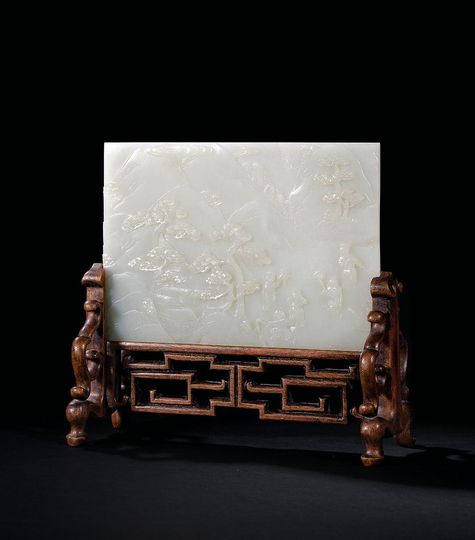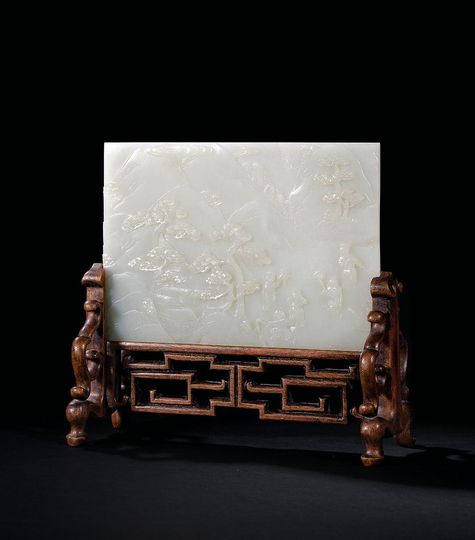 Estimate
TWD 1,200,000-2,200,000
HKD 327,000-599,000
USD 42,100-77,100
CNY 277,000-508,000
---
Signature


PROVENANCE:
Sotheby's New York, 11-12 April, 1990, Lot 288
+ OVERVIEW
Since the Song dynasty, jade table screens are regarded as important centerpieces in scholars' reading rooms. As an art object, a table screen could become a silhouette of a delightful memory. With the advancement of craftsmanship in the 18th century, jade table screens become undetachable objects in a scholar's room.

This table screen was carved out of a fine white lucent jade. Overlapping hills were carved with excellent craftsmanship. As the jade mounts on the wooden stand, the art piece gleams in its ancient glory once again. The boys' innocence at play constantly brings joy to any adult lives, thus this subject has gained popularity since the Song dynasty. In this table screen, five boys were featured playing outside their home. They were meticulously carved in robes, displaying different personalities. Four of them carry their own toys, namely a spear, a flower, a scepter and a lantern. The boy with a spear holds his two fingers up imitating actors of a play. The one next to him holds a flower while glancing back, as if conversing with him in a play. On the other side of the playground, two boys hold a scepter and a lantern as if teasing the timid child at the center who is covering his ears with both hands. Such an animated scene depicted the most innocent times of childhood.

Surrounding the children are gentle relief of hills and forests, providing a secluded playground for them. The whole scene is filled with connotations of blessings. The pine and lingzhi scattered in the landscape symbolizes longevity and good health. Two chickens on the right symbolizes prosperity and fortune, while the toys of the children symbolizes prosperity and protection, thus creating an animated and delightful scene for appreciation.
Refined Brushwork: Fine Chinese Paintings and Works of Art
Ravenel Spring Auction 2021 Taipei
Saturday, July 17, 2021, 12:00am