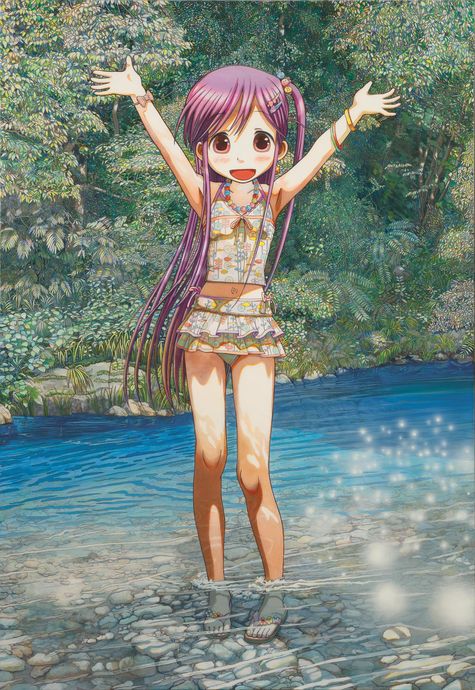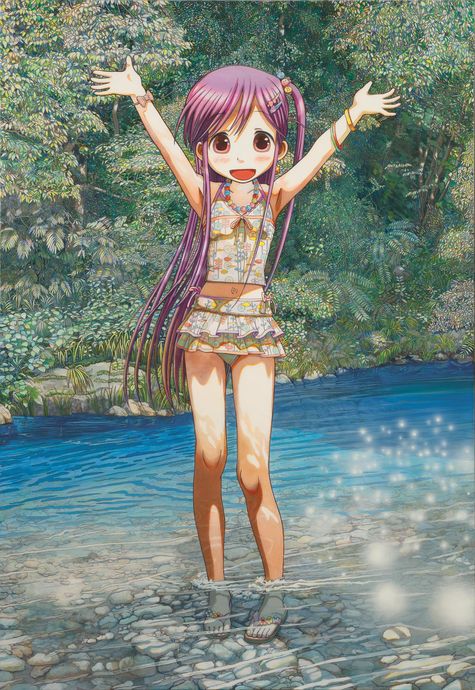 Estimate
TWD 4,600,000-6,000,000
HKD 1,183,000-1,542,000
USD 152,700-199,100
CNY 1,085,000-1,415,000
Sold Price
TWD 8,040,000
HKD 2,110,236
USD 271,989
CNY 1,905,213
---
Signature
Signed on the overlap Mr. in English and dated 2009

PROVENANCE:
Galerie Perrotin
Private collection, Asia
+ OVERVIEW
"The blending of a Lolita complex and otaku culture in his works … [has] 'an unbearable irresistibility in its tiny, innocent world" ── Paul McCarthy (American Contemporary Artist)
"Girl Power" in Contemporary Art ─ "Moe" Art of Mr.

If Takashi Murakami was the first ever artist to successfully bring Japanese subculture into the contemporary art, then being his principal disciple, Mr. nevertheless is the leading figure in promoting the otaku culture. Murakami proposed the Superflat theory, trying to challenge the public's existing aesthetic viewpoints, and Mr. made anime risen from popular art to its peak and shined brilliantly. Mr. graduated from College of Fine Arts in Tokyo and having teamed up with Murakami for more than 10 years. He has become the most famous artist in Kaikai Kiki, and has held solo exhibitions in Japan, Europe, the United States, and Asia. The grand exhibition "Bishojo: Young Pretty Girls in Art History" launched by the Museum of NTUE in 2019 also exhibited its large-scale art installation "Hikari–A Chery Blossom Path–". In recent years, the way of exhibition "CHAOS LOUNGE" in Japan was strongly influenced by Mr., which means "works are all over in one's own messy room", and those who follow him to create also rapidly increase.

From niche to mainstream, bearing the iconic style of internationalization ─Neo Pop to Superflat
"The art pieces of Animamix are not restricted to animation or comics, they represent a more comprehensive concept of art appreciation in the new century. Animamic art is beyond art, beyond time, beyond space and beyond life." Victoria LU
Manga and anime are considered a subculture in Japan due to their sheer circulation volume. From 1988 to early 1990, Japanese society was in a frenzy era of bubble economy, young artists such as Takashi Murakami, Yoshitomo Nara, and Kenji Yanobe who have risen around the 1990s and they have a direct response to popular culture, the reverse import form from overseas is popular during young generation in Japan. In 1999, Murakami proposed the Superflat theory, it was the first time, cultural powers such as manga and animation have become an important link to mainstream art, and otaku culture has received critical acclaim worldwide.
Pursuing the original aspiration from inner heart, Moe girl saves the world
His works have given a full play to the spirit of Japanese animation culture, especially the fancy imagination of lolicon and otaku. The "Moe girl", which is commonly seen in anime, manga and video games, has become an elusive imagination in Japanese subcultures with its iconic large watery eyes and slender appearance. As a self-confessed otaku, Mr. believes innocent girl is extremely attractive, he considered his artistic creation as a kind of treatment, and also the reinterpretation of one self, so that he can recover from his broken family. He once said, "People have misunderstood my work, thinking that it is just nostalgic, cute and looks like Japanese animation, but in fact, I keep painting in order to get rid of the devil that entangles my soul, they hide in my vein, impossible to escape from, can only confront with paintings."
In order to communicate with the world, Mr. added the diversity of western graffiti art, exceeded the past of just the portrait of a young girl, but successfully weaves an innocent paradise with multi-layers and strong narrative, and hence conveys an unique visual language. The intertwining layers of cultural heritage have an intensive narrative character, this carefully designed style entirely comes from his good reasoning and rigorous attitude. Moreover he created images of innocent and indisputable young girl, which are often seen in Japanese subcultures such as anime and manga, the native motif that Mr. built-in has therefore become his distinctive iconic style.
In recent years the style exaggerated with otaku created by Mr. has become the focal point in the auction market. Different from Murakami, who mostly used the famous anime character "Doraemon" as his creative theme, Mr. employs flourishing colors and creates Japanese animated manga character with style that is full of positive energy, his inner desire and fantasy are therefore expressed on the canvas. This Spring Auction Ravenel's Modern and Contemporary Asian Art honestly presented Mr. "Murmuring Stream", centered a purple red-haired girl, her big watery eyes and childish face reveal her incomparable innocence, she raises her hands in the running water, exerted blooming youth and vitality. The youthful yet fragile Moe girl overloaded with cuteness is utmost attractive, but at the same time is a projection of desire that is totally out of reach, is an imagination that possessed of the ideal of beauty. The works of Mr. present fantasy moments filling with magic, brimming with boundless enthusiasm and positive energy, fully conveying the youthful, cute and pure of heart Japanese "Moe" spirit. In such an incomplete and troubled real world, opens up a world full of dreams with boundless fantasy and vitality.
Modern & Contemporary Asian Art
Ravenel Spring Auction 2020 Taipei
Sunday, July 19, 2020, 12:00am