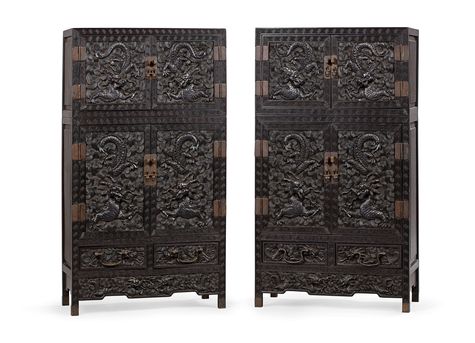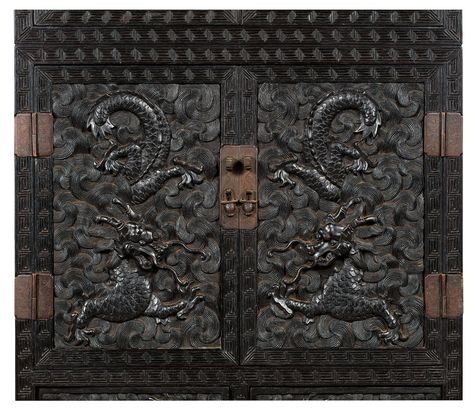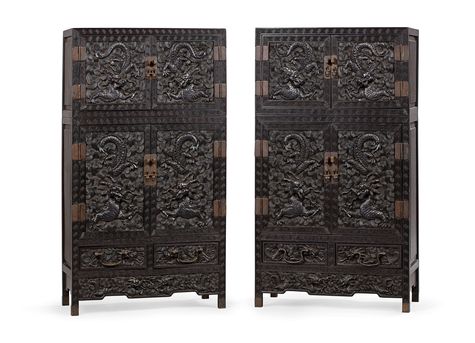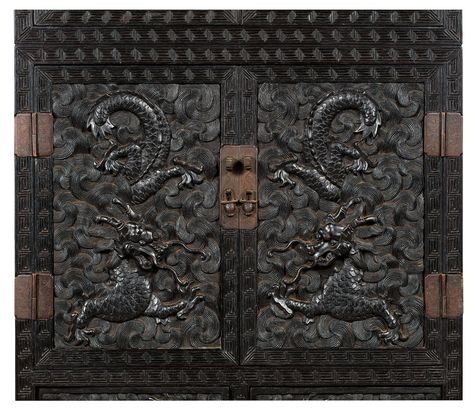 Lot 720 Ravenel Spring Auction 2020
A PAIR OF CARVED ZITAN 'DRAGON' CABINETS KANGGUI
Qing Dynasty(1644-1911)
L : 20.2 cm; W : 43.6 cm;H : 74.6 cm (each)
Estimate
TWD 1,200,000-1,900,000
HKD 308,000-488,000
USD 39,800-63,100
CNY 283,000-448,000
---
+ OVERVIEW
These cabinets are displayed in pairs and are carved from zitan wood panels. The four doors are designed facing each other, above the two drawers below. Doors are carved with five-clawed dragons surrounded by clouds in high relief. Aprons of the cabinets are carved with a pair of dragons playing with a ball. These dragons are ferociously depicted flying on clouds. Their heads are represented in a shape of ruyi with nostrils that resemble that of the lions. Two horns stand on its forehead and its hair raised as they are brushed by the winds. Their bodies are covered with scales and their hands are outstretched. Each panel forms a picture of its own, while echoing with the adjacent panels. Yellow bronze knobs, hinges and plaques are plain, which balance with the extravagant flourishings on the cabinets.

Dragons are mythical beings who were believed to manipulate clouds, rain and wind. It controls the well-being of villages and a country and were believed as symbols of prosperity. Since the Qin and Han Dynasty, dragons have become a representation of the emperor. From the Song Dynasty, dragon motifs symbolizes the supremacy and power of the king. Officials were forbidden to use dragon motifs. In the Ming Dynasty, dragons with four claws could be seen on cloaks of senior officials, while those with five claws were stricted for imperial use. These cabinets are decorated with five-clawed dragons, suggesting its imperial heritage. Cloud and dragon motifs correspond with the style of Qianlong period, Qing Dynasty, hence one could determine its origin and period.

Qing furniture might appear over-flourished and clumsy in style, yet such style fits perfectly in cabinets and drawers. The strong and dense structure of zitan allows carpenters to carve extravagant flourishings, without affecting the structure of a furniture. Zitan cabinets became expensive artwork as they required excellent craftsmanship and intensive labour. Hence production of such furniture is very few and comes with a high price. Due to the difficulties in transportation, these antique furniture with such exquisite carvings are even scarce in quantity.


Curios: Chinese Works of Art
Ravenel Spring Auction 2020
Saturday, July 18, 2020, 12:00am