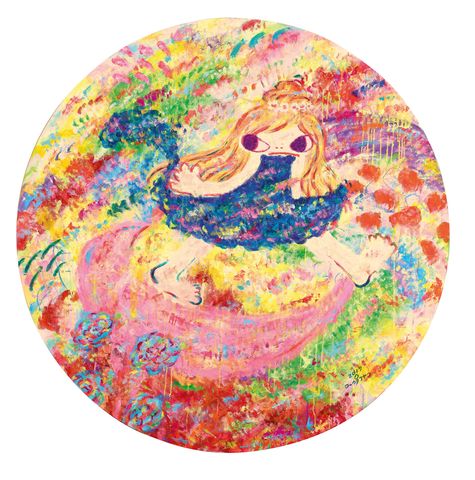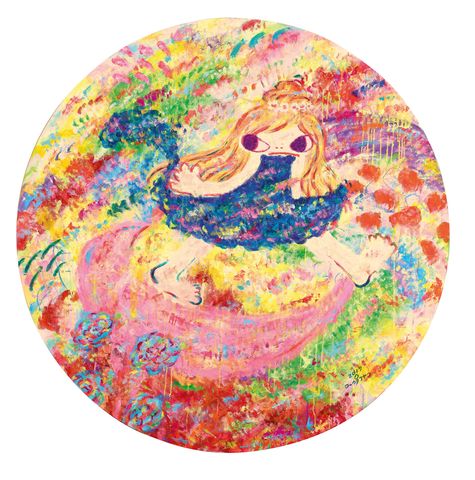 Estimate
TWD 3,800,000-6,000,000
HKD 1,011,000-1,596,000
USD 130,200-205,600
CNY 894,000-1,412,000
Sold Price
TWD 6,000,000
HKD 1,630,435
USD 210,526
CNY 1,372,998
---
Signature
Signed lower right Ayako Rokkaku in Japanese and dated 2017
Inscribed reverse ARP17-010
PROVENANCE:
Gallery Delaive, Amsterdam
Private collection, AsiaILLUSTRATED:
Ayako Rokkaku-Bright Wind, Another Step, Gallery Delaive, Amsterdan, 2018, color illustrated
+ OVERVIEW
In 2006, Ayako Rokkaku was only 24 years old when she was awarded the Goto Akio Prize at the 9th GEISAI art fair. In the same year, the reputably tasteful Dutch Gallery Delaive actively fought to represent this talented young artist globally. Under the management of the gallery, Rokkaku shone brightly on the international stage. She has performed live painting at events including Art Basel, Art Basel Miami Beach, and Art Taipei. With her back to the audience, this barefooted young girl sits on the floor, surrounded by paints and art supplies. With a relaxed yet focused expression, she completes brightly colored, complex portraits of a girl drawing from her wild sense of imagination.

Rokkaku is unburdened by any formal art education. Having only briefly attended an illustration class, she is self-taught artist. However, her inherent sensitivity and observation skills coupled with her love for anime come together to create her unique, personal style-an intuitive, doodle-like way of painting. Some people might compare her to Yoshitomo Nara. But, the improvisational method and girlish innocence in Rokkaku's works are truly unique in contemporary art. She layers repetitive patterns on top of each other. Clouds, bowknots, flowers, animals, and skulls are randomly scattered on the canvas, inviting viewers to explore in detail. Her characters, either with eyes wide open or arms swinging in a stride, show the adorable side of carefree and mischievous girls.

One of her works, Untitled, is 1.3 meters long in diameter, and features a dazzling level of color. Such a huge and round painting is rarely seen at auctions. Untitled marks a departure from the single character close-ups on corrugated paper presented in Rokkaku's earlier works. Like the England rosy garden during springtime, the background is exquisite and dense with rose flowers on the rolling grass hills blooming in the breeze under the warmth of the sun. In the center, there is a girl with a bun head wearing a navy blue dress. She strides forward, glancing back as there is someone behind calling. This adorable, mischievous girl is the epitome of Rokkaku's works. In them, the artist conveys bravery, confidence, and her faith in life. Among the hustle and bustle, Rokkaku's innocence and positivity brings light to our lives, filling our hearts with laughter and joy.


Select: Modern & Contemporary Art
Ravenel Autumn Auction 2020
Saturday, December 5, 2020, 12:00am